Date: Thursday, July 26, 2018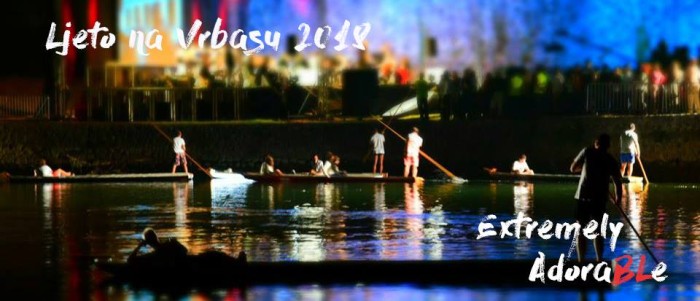 The event at the Vrbas river was first organized by members of the Club of academics of Banja Luka (KAB) long time ago, in 1953. under the name "Carnival at Vrbas". In the late 1970s the event's name was changed to "Meetings at Vrbas" and its present name originates since 1995.  The idea for the name of the "Summer at Vrbas" has been given to uniting continuous events over the summer on the Vrbas river and its banks. The main activities of the event are dayak and kayak racing boats, jumping from Gradski most (the City bridge), as well as performances of cultural, artistic and musical groups. Each year the event bring together a number of artists, athletes, entertainers and other Banja Luka's associations and individuals by whose activities on the Vrbas river and its banks the rich cultural, entertainment and sports programs are organized. Writers, actors, cultural clubs and artists participate in the program. In the attractive sports program on the Vrbas river and its banks sporting activities such as kayak and dayak race boats, rafting race, jumping from city bridge, swim over Vrbas, sand volleyball, closed stadium football, basketball, sports fishing competition, parachute jumping, promotion of the activities of sports clubs and others are held.
The beginning of the 65th Summer on Vrbas was marked by jumps from the City Bridge. In the competition of 17 jumps, gold for the best "lasta" was won by Djordje Gajic from Banja Luka. He is glad that, after several attempts, he finally won the first place in his hometown.
For more information : http://www.banjaluka-turizam.com/index.php/en/